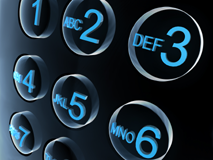 Hosted VOIP is the wave of the future for businesses that need reliable telephony systems that do not require a large investment. In fact, outside of the initial purchase of VOIP supported telephones, the system is ready to be launched for a fraction of the cost of a regular telephony system. The best part about using hosted VOIP is that it is not only cheaper, but it requires absolutely no retraining so you can start saving right away and experience the flexibility it provides every business, especially multiple location businesses, with 24/7 reliability.
Business VoIP providers in the United States by price
Service charges
Call rates
United States
United Kingdom
France
Germany
China
Italy
Russia
Brazil
South Africa
Philippines
Why your business needs VOIP?
Business VOIP is now one of the most popular ways for organizations to trim costs of telephony services as it offers reduced costs over traditional phone lines, while also offering full support. Additionally, business VOIP options are available for every size organization regardless of their needs and offers extreme flexibility for customers that are situated in different locations, and networks from one simple hosted PBX exchange, which make it hard to beat in terms of management and practicability.
Read more...